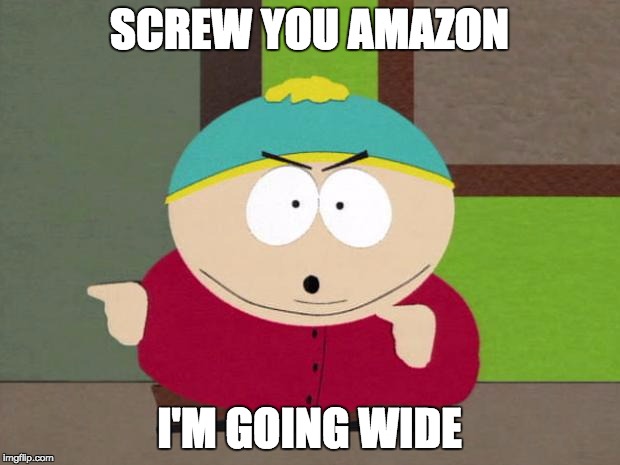 For the last couple of years, I've been publishing my books exclusively through Amazon's Kindle Select program. This enables my books to be borrowed by readers enrolled in Kindle Unlimited, which is essentially like Spotify for books, where you can borrow books for a monthly fee, and authors are paid around 0.004 cents per page you read.
In order for a book to be considered for Kindle Unlimited, that book has to be exclusive to Amazon. This means readers who use iBooks, Nook, Kobo, or other platforms couldn't easily get my books, unless they purchased them from Amazon and used some piece of software to convert the file.
I chose to go with Kindle Unlimited because of the opportunity to reach a huge range of readers. It can be hard to convince readers to spend $3-5 on a book by an unknown author. However, in KU, readers can borrow as many books as they like, which means the barriers to trying my books are gone. For a new writer like me, that's gold.
While for the most part, the experiment in KU has been a success, I've decided it is time to leave the program. My reasons for this mainly have to do with the way Amazon have been running the program – arbitrarily enforcing rules, their inability to deal with scammers or accurately account for the number of pages read in KU (and therefore, the correct amount owed to authors), the PageFlip issue, shutting down author accounts because their books had been pirated and therefore broke the exclusivity clause (not the author's fault) … the list goes on. Every day when I check the author forums or Facebook pages I belong to, I hear more stories of woe, mostly from authors in the KU program.
I grew tired of constantly worrying if I was compliant, and I hated the reliance on a single platform for my income. I felt that I was helping to train readers to expect books for free, and since I pour everything I have into my books, I want them to be valued. These factors, coupled with the recent pageflip issues crippling my income and requests from readers to make my books widely available, making the switch was a no-brainer.
Over the last month I've been pulling my books one by one and publishing them across all platforms. So far, all of my Steffanie Holmes books have been published to Amazon, iBooks, B&N, Kobo, and Google Play. My S C Green books will follow a little later in the year.
I'd like to re-iterate that you can still buy my books from Amazon. The only thing you can't do anymore is borrow them through the Kindle Unlimited program.
If you're a reader who's been waiting to get my titles on a non-Amazon platform, now is your chance. Check out the Steffanie Holmes titles on Amazon, iBooks, B&N, Kobo, and Google Play.
And, if you become a patreon supporter, you'll get every book I've ever published for free.
Digging the Wolf and Writing the Wolf
To celebrate the wide launch, I've got Digging the Wolf on sale for $0.99 for the next couple of days. If you've ever wanted to read one of my paranormal romances, give this one a shot.
You can grab Digging the Wolf on Amazon, iBooks, Nook, Google Play, and Kobo for just $0.99.
AND, the latest book in my Wolves of Crookshollow series, Writing the Wolf, is now available for pre-order on Amazon, B&N, and iBooks (Google Play and Kobo coming soon). Grab your copy today and be one of the first to read it on your chosen platform.
What's next for me?
Now that my books are wide, I'm focusing on growing my audiences on these platforms with some targeted ads. In March, our new urban fantasy book Ossified State will be published. Then I'll need to write book 3 in the Witches of the Woods series, books 3-4 in the Crookshollow Wolves series, as well as books 3-4 in the Chronicles of the Wraith series. I want all 3 series wrapped up by the end of the year, so 2018 will be a year of new projects and new worlds.
So that's me, leaving behind the shackles of Amazon exclusivity and off on a multi-platform adventure. I hope you'll come along for the ride!
---
Don't want to miss my essays on writing, creativity, or rocking life as a working artist?
Sign up for the Creative Rebel newsletter to have each weekly article delivered to your inbox.